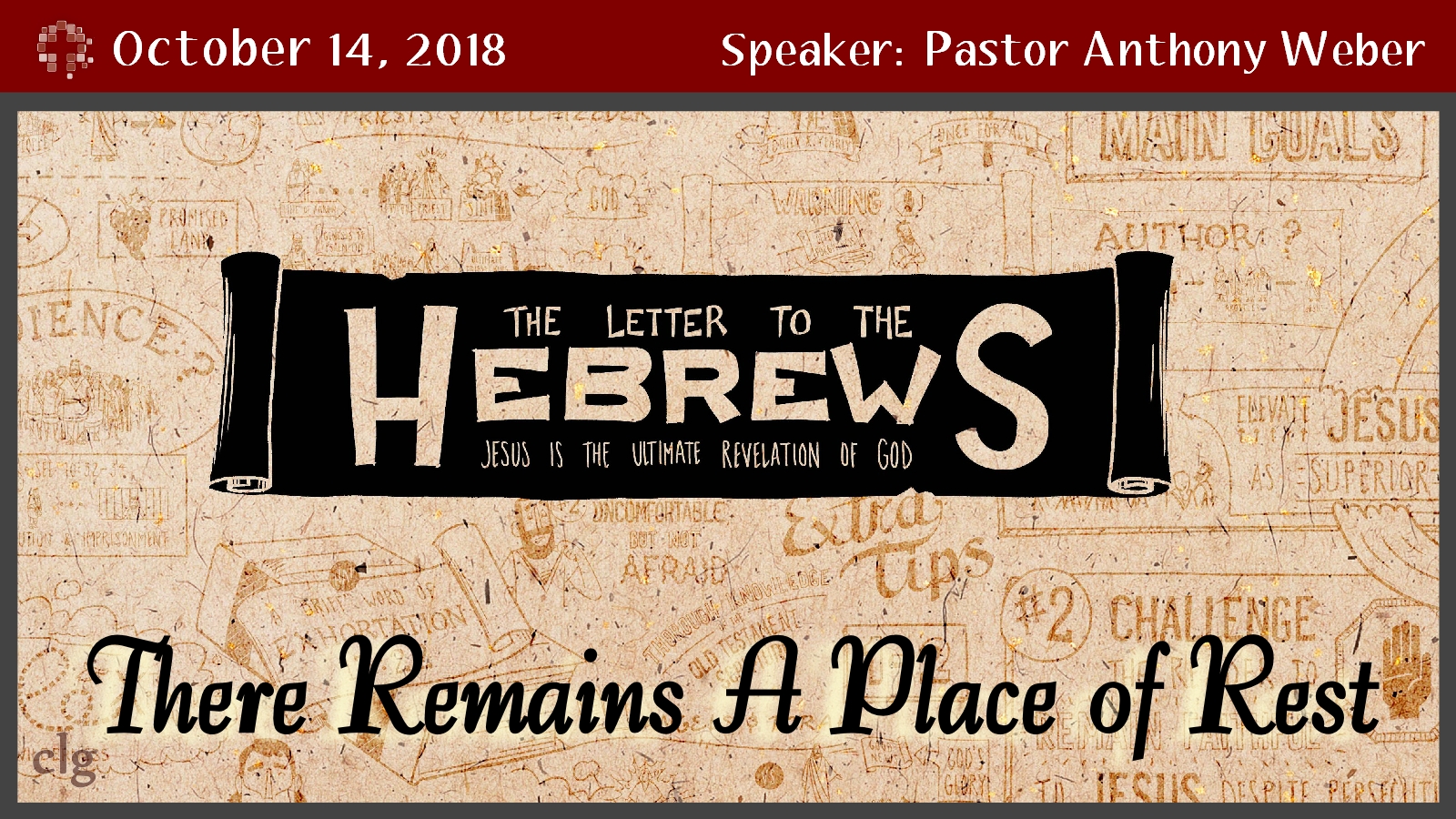 Listen to the podcast here. Watch the Facebook Live stream here. 
Many of the Jewish readers of this letter were afraid that there was no rest for them. The Promised Land was long gone, so they seemed to have missed that. They left captivity but were now in subjugation to Rome. The writer of Hebrews is about to assure them that they have not missed the opportunity to enter into a Promised Land and find a place of rest.
7 Listen now, to the voice of the Holy Spirit through what the psalmist wrote:Today, if you listen to His voice, 8 Don't harden your hearts the way they did in the bitter uprising at Meribah9 Where your ancestors tested Me though they had seen My marvelous power. 10 For the 40 years they traveled on to the land that I had promised them, That generation broke My heart.Grieving and angry, I said, "Their hearts are unfaithful; they don't know what I want from them."11 That is why I swore in anger they would never enter salvation's rest.
Brothers and sisters, pay close attention so you won't develop an evil and unbelieving heart that causes you to abandon the living God. 13 Encourage each other every day—for as long as we still have the "today" God gives us to listen to his voice — so none of you let the deceitfulness of sin harden your hearts. 14 For we have become partners with the Anointed One—if we can just hold on to our confidence until the end.
15 Look at the lines from the psalm again: "Today, if you listen to His voice, Don't harden your hearts the way they did  in the bitter uprising at Meribah."16 Now who, exactly, was God talking to then? Who heard and rebelled? Wasn't it all of those whom Moses led out of Egypt? 17 And who made God angry for an entire generation? Wasn't it those who sinned against Him, those whose bodies are still buried in the wilderness, the site of that uprising?
18 It was those disobedient ones who God swore would never enter into salvation's rest. 19 And we can see that they couldn't enter because they did not believe. [4] That's why, as long as that promise of entering God's rest remains open to us, we should beware (be alarmed; fear; have caution and care) that none of us seem to fall short ourselves.[1]
2 Those people in the wilderness heard God's good news, just as we have heard it, but the message they heard didn't do them any good since what they heard wasn't combined with faith.  3 We who believe are entering into salvation's rest… 4 For didn't God say that on the seventh day of creation He rested from all His works?]5 And doesn't God say in the psalm that [the Israelites] would never enter into salvation's rest? (which means His rest must be ongoing – AW)
6 So if God prepared a place of rest, and those who were given the good news didn't enter because they chose disobedience over faith,then it remains open for us to enter. 7 Once again, God has fixed a day for us to respond; and that day is "today…"
9 There still remains a place of rest, a true Sabbath[2], for the people of God 10 because those who enter into salvation's rest lay down their labors in the same way that God entered into a Sabbath rest from His. 11 So let us move forward to enter this rest, so that none of us fall into the kind of faithless disobedience that prevented them from entering.
* * * * * *
Key points:
We are on a journey in which there is a danger of become hard and bitter.
There is a place of rest, a true Sabbath, where we can lay down our burdens.
That place is open for the people of God.
Those who harden their hearts (disobedience) will not enter that rest.
Hold fast to faith and obedience so that you don't fall short before the end.
Today, I want to talk about rest.
WHAT IS THIS PROMISED REST?
Option A: This is about salvation.Unbelief separates us from the presence of God and the rest He offers in this life and the next.  The rest that they rejected was the rest that comes from the freedom from guilt, shame, hiddenness and the eternal penalty of sin.This is the rest of justification and the peace of conscience.
This includes resting from using obedience to the Law to save ourselves. We can't do it. It's exhausting to try to be good enough to earn God's salvation. Salvation is a gift from God to us. The eternal penalty of our sins is covered. Be at peace; through Jesus, you are now at peace with God.
Option B: This is about the rest of entering into the fullness of the Christian life after salvation. Canaan, or the Promised Land, is for us the spiritual promised land of the Spirit-filled life. Blessings were there for the Israelites– it was "flowing with milk and honey" which is a colorful way of saying the land was awesome.[3]These physical realities in the Old Testament foreshadow spiritual realities for us.
This is the refining "rest" of sanctification, during which a work is being done in us while we live in the land of plenty.[4]
When we give our lives to Jesus, we become one of His people, and he opens the gate to the Promised Land of "life more abundant"[5]already on this side of Heaven. This is freedom from:
Working to earn God's love
Hiding ourselves from others
Being overcome by fear/worry
Needing control of our life and the lives of others
Showing unrighteous judgment (as opposed to righteous)[6]
Harboring unforgiveness/nursing unrepentance
Being controlled by jealousy, bitterness, envy, anger, lust
The "milk and honey" now looks like this:
Righteousness (walking in the right way)
Love (total commitment to seeking the best for others no matter how they may respond)
Peace (specifically, between God and us through Jesus)
Patience (enduring or continuing through God's grace)
Kindness (inclining ourselves toward others with grace and mercy)
Gentleness (sensitivity and kindness given by the stronger to the weaker)
Self-control (physical and emotional self-mastery empowered by God)
Purity (guiltless or innocent behavior; uprightness)
In this land, we now have true freedom to begin to thrive as image bearers, children of God, and brothers and sisters of Jesus.
Now, this isn't a promise of ease. This is a promise of living in a land primed for spiritual flourishing.God's people had to wade through giants to enjoy the land, and while God empowered them, they had to fight. It was a fertile land of plenty, but they would have to protect their goats from predators and chase them down to milk them, and they would have to find wild honey and harvest figs. I think, once again, that their physical reality is instructive for our spiritual reality.
We will not be missing anything we need in the Kingdom of God.  If we feel like this is happening, it's not because the provision is lacking. The Bible is full of commands to seek God, and these verses seem to point toward the seeking that first leads to salvation, and then takes us deeper into the blessings of Jesus and His Kingdom. [7]
Lewis's Chronicles of Narnia end with all those in True Narnia (think 'heaven') starting an everlasting adventure of "onward and upward" deeper into Narnia. I like that image, and I think moving onward and upward into the kingdom NOW is meant to give us a glimpse into what's in store for us in the life to come.[8]
Option C: We rest forever in the life to come.This is the rest of glorification. One day, we will never be weary; we will never know pain and sorrow; we will see Jesus in all of His glory; we will live the life we were made to live in all its perfection and beauty.
If we were to create a timeline for what it means for us to be saved and find rest in Jesus, it would look something like this:
past tense salvation("For you were justified," 1 Corinthians 6:11) in which we are offered rest from the eternal penalty of sinand in thejustificationgiven to us by Jesus
present tense salvation( "those of us who are being saved," 1 Corinthians 1:18) in which we are offered rest from the controlling power of sinand rest in the plentiful land of the Kingdom
future tense salvation( "We shall be like him, for we shall see him as he is," (1 John 3:2) in which we move into our eternal rest from the presence of sin and in the glorificationthat is promised God's people.
THE RHYTHM OF REST THAT REMINDS OF GOD'S REST: SABBATH[9]
We talked a couple weeks ago about spiritual disciplines that we can do to order/structure/focus our lives. Sabbath rest is a great one. First, God commands it. Second, the Sabbath is for us[10]– that is, for our good.  It does more than give us much needed physical rest; it orients our life and points us toward the true rest that God offers His people.
We rest to remember the world does not revolve around what we have to offer. Our identity is in Christ.
We rest to remember God's faithfulness in providing for us in HIS strength, not ours. Our security is in Christ.
We rest physically to remind us that we can rest spiritually.Our restoration is in Christ.
We rest for a glimpse of the True Sabbath. Our hope is in Christ.
* * * * * * * * * *
The happiness of heaven is the constant keeping of the Sabbath. Heaven is called a Sabbath, to make those who have Sabbaths long for heaven, and those who long for heaven love Sabbaths.—Philip Henry
Sabbath ceasing means to cease not only from work itself, but also from the need to accomplish and be productive, from the worry and tension that accompany our modern criterion of efficiency, from our efforts to be in control of our lives as if we were God, from our possessiveness and our enculturation, and, finally, from the humdrum and meaninglessness that result when life is pursued without the Lord at the center of it all. —Marva J. Dawn
"We meet dozens of people, have so many conversations. We do not feel how much energy we spend on each activity, because we imagine we will always have more energy at our disposal. This one little conversation. This one little extra phone call, this one quick meeting, what can it cost?…..But it does cost…..it drains yet another drop of our life. Then, at the end of days, weeks, months, years, we collapse, we burn out, and cannot see where it happened. It happened in a thousand unconscious events, tasks and responsibilities that seemed easy and harmless on the surface, but that each one after the other used a small portion of our precious life. And so, we are given a commandment, which is actually a gift: 'Remember the Sabbath'". —Wayne Muller
Money gained on Sabbath-day is a loss, I dare to say. No blessing can come with that which comes to us, on the devil's back, by our willful disobedience of God's law. The loss of health by neglect of rest, and the loss of soul by neglect of hearing the gospel, soon turn all seeming profit into real loss. —Charles Spurgeon
In place of our exhaustion and spiritual fatigue, He will give us rest. All He asks is that we come to Him . . . that we spend a while thinking about Him, meditating on him, talking to Him, listening in silence, occupying ourselves with Him totally and thoroughly lost in the hiding place of His presence.—Chuck Swindoll
At least one day in every seven, pull off the road and park the car in the garage. Close the door to the toolshed and turn off the computer. Stay home, not because you are sick but because you are well. Talk someone you love into being well with you. Take a nap, a walk, and hour for lunch. Test the premise that you are worth more than you can produce – that even if you spent one whole day of being good for nothing you would still be precious in God's sight. And when you get anxious because you are convinced that this is not so – remember that your own conviction is not required. This is a commandment. Your worth has already been established, even when you are not working. The purpose of the commandment is to woo you to the same truth. —Barbara Brown Taylor
But on the seventh day God stops not only to bless but to "hallow" or set apart the sabbath. The holiness of God is revealed not just in what he does but how he rests. —Andy Crouch
"After creating the world, God looked around and saw that "it was very good" (Genesis 1:31). God did not just cease from his labor; he stopped and enjoyed what he had made. What does this mean for us? We need to stop to enjoy God, to enjoy his creation, to enjoy the fruits of our labor. The whole point of Sabbath is joy in what God has done."– Tim Keller
Spiritual practices don't justify us. They don't save us. Rather, they refine our Christianity; they make the inheritance Christ gives us on the Cross more fully our own... Practicing the spiritual disciplines does not make us Christians. Instead, the practicing teaches us what it means to live as Christians." ― Lauren F. Winner, Mudhouse Sabbath
Recommended Songs:
David Crowder, "Come As You Are"
[embed]https://www.youtube.com/watch?v=r2zhf2mqEMI[/embed]
Susan Ashton and Michael English, "All I Long For"
[embed]https://www.youtube.com/watch?v=nOve9bWQ9Uk[/embed]
Kari Jobe, "Be Still My Soul"
[embed]https://www.youtube.com/watch?v=mq59iE3MhXM[/embed]
__________________________________________________________________________________
[1]"An allusion to the races in the Grecian games.  Will it avail any of us how near we get to heaven, if the door be shut before we arrive?" – Adam Clarke
[2]"In speaking of the Sabbath, as typifying a state of blessedness in the other world, the apostle follows the opinions of the Jews of his own and after times. The phrase "the sabbath above, and the sabbath below" is common among the Jewish writers; and they think that where the pluralnumber is used, as in  Leviticus 19:30; : Ye shall keep my Sabbaths." (Adam Clarke)
[3]Fun facts: the milk was probably mostly from goats, and the honey from both wild bees and figs/dates.
[4]I'm partial to this one as the primary sense of this particular passage, but all three of these ways of understanding 'rest' are found in the Bible.
[5]John 10:10
[6]"Bible Verses About Righteous Judgment" from the Forerunner Commentary. "https://www.bibletools.org/index.cfm/fuseaction/Topical.show/RTD/cgg/ID/1560/Righteous-Judgment.htm
[7]"'You will seek Me and find Me when you search for Me with all your heart" (Jeremiah 29:13). The Lord is good to those who seek him (Lamentations 3:25). Those who seek him are blessed (Psalm 119:2-3). The one who seeks, finds (Matthew 7:8).
[8]That might not be a bad (albeit incomplete) way to think about eternity: that which we are committed to exploring now will be what we get to explore for eternity. If you want to explore what sin has to offer – if that is where your heart is – you get to keep diving into the pain, the shame, the frustration, the anger, the jealousy, the emptiness for eternity. If you want what evil can give you now, one day you will get evil in its fullness. But if your heart is to explore the righteousness of God in Jesus, and you want to experience all that righteousness can give you now, that's what you get to move deeper into for eternity as well.
[9]Read "Wisdom and Sabbath Rest," by Tim Keller. http://qideas.org/articles/wisdom-and-sabbath-rest/
[10]Mark 2:27