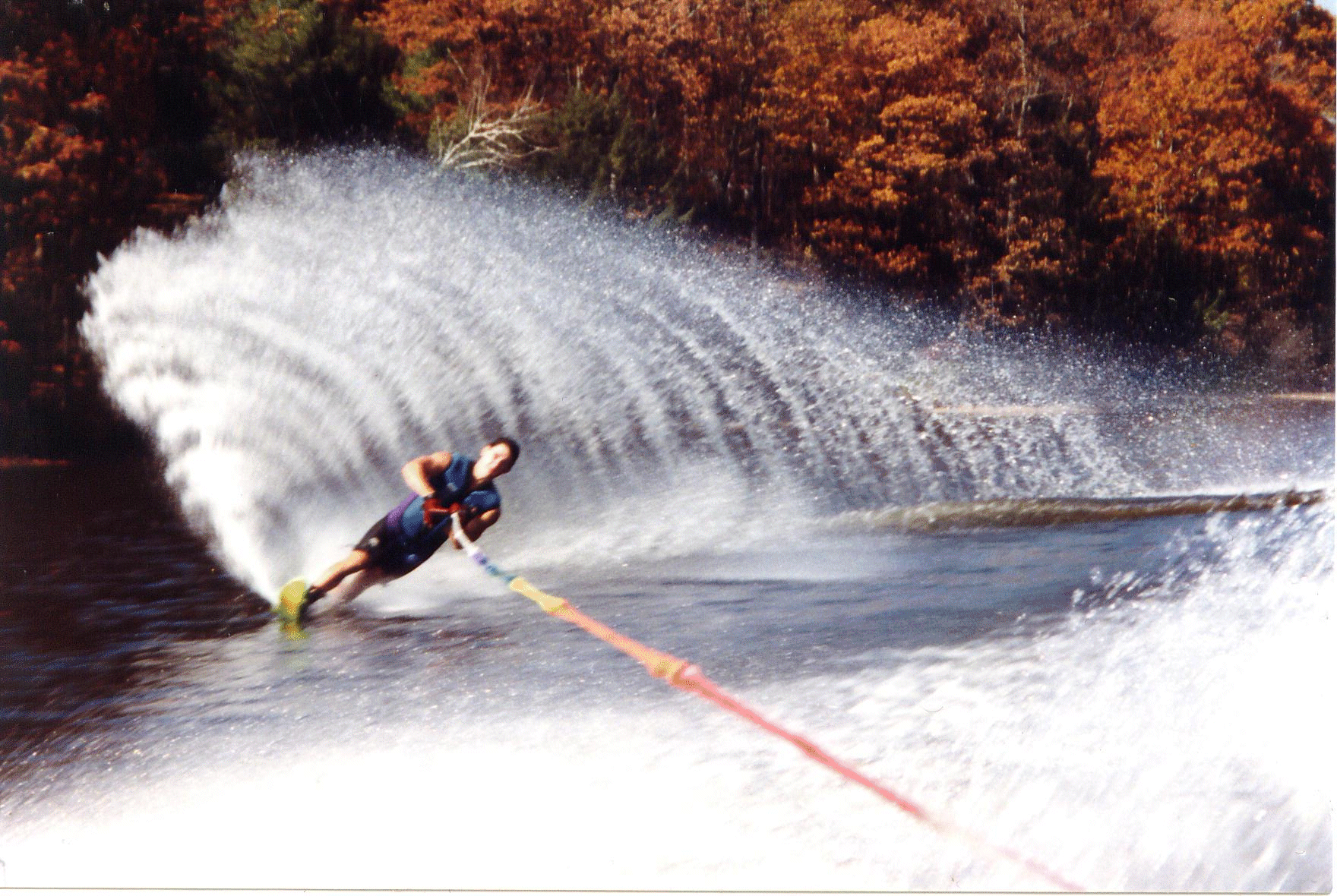 In some ways, life is like a slalom course. There are sudden turns that come too fast, rough water, fatigue, sharp turns, wakes that can
send you flying or flailing. Success feels fantastic, but failure hurts. 
So how do we successfully navigate the slalom course of life? Rough waters show up in many ways: the death of a loved one, sickness, employment changes, relational breakdowns. Our lives taken sudden turns when our children get in trouble, or our friends let us down. Fatigue sets in when our ministry is unappreciated or ineffective. Success feels fantastic, but failure hurts.
A common mistake is to use all our energy to change our circumstance. When we encounter rough waters and sharp turns, we look for a different job, a different car, a different town, a different husband or wife, a different church. If we are unhappy single, we look for a spouse. If we are unhappy married we look for a way out. We're sure that if we can just change our circumstance our lives will change for the better.
In 1 Corinthians 7, Paul addresses people who are having trouble on the course of their life. While his message is aimed toward several particular groups, Paul has a common message for all of them: no matter the water, the weather, or the twists and turns of life,  pursue undistracted devotion to the Lord (v. 35). 
First, he addresses those who are unhappy with their relational status, and he begins with those who are married:
 "But because of immoralities let each man have his own wife, and let each woman have her own husband. Let the husband give his wife the affection owed her, and likewise also the wife to her husband. The wife does not have authority over her own body, but the husband does, and likewise also the husband does not have authority over his own body, but the wife does. Stop depriving one another, except by agreement for a time that you may devote yourselves to prayer, and come together again lest Satan tempt you because of your lack of self-control. " (1 Corinthians 7:2-5)
   Paul is not saying sex is the only or most important reason for marriage. He is answering a specific questions Corinthians had about marriage at that time and in their circumstances. Considering the culture in which they lived, it's no surprise they had some questions about sex.
As noted earlier in 1 Corinthians, some of the Christians thought it was okay to hire prostitutes, and now others were wondering if it really spiritual spouses should have sex at all. Paul says no to the former and yes to the latter, but he moves the subject beyond just sex – affection matters too. (For what it's worth, Paul may have been married at one time. He was an exemplary Jew (Philippians 3:4-6). Jews believed that an unmarried twenty-year-old man was sinning by not being married. Paul was likely a member of the Sanhedrin (as he "cast my vote" in Acts 26:10), and only married men could be members of the Sanhedrin). Basically Paul says (and I am, of course, paraphrasing):
"Here's what you need to navigate the slalom course of marriage. Self-sacrifice is the rough water; responsibility the fatigue. Your body isn't yours alone. It belongs to God first and your mate second. The entire relationship - including sex -  not just one person's duty and the other one's privilege. You need to meet each other's sexual and emotional needs, and you need to hang in there even when you want to drop the rope and call it quits.

'But he/she brings out the worst in me!'  Yep. That's one way God reveals who you really are. Don't change mates - change yourself by the grace of God. You are the temple of the Holy Spirit, part of the "body" of Christ on earth. Like Christ, you are called to be a loving servant, blessing when cursed, forgiving, interceding, confronting in love, and sacrificing. Don't serve with expectation of earning something in return; it will only lead to resentment. You are trying to please the Lord and your spouse, not get something from them."
Next, Paul addresses those who are single:
"(vs. 7-9) I wish that all men were even as I myself am. However, each man has his own gift from God, but I say to the unmarried and the widow that it is good for them if they remain even as I. But if they do not have self-control, let them marry; for it is better to marry than to burn. (Vs 28) But if you should marry, you have not sinned; and if a virgin should marry, she has not sinned. Yet such will have trouble in this life, and I am trying to spare you. (Vs 32-34) But I want you to be free from concern. One who is unmarried is concerned about the things of the Lord, how he may please the Lord; but one who is married is concerned about the things of the world, how he may please his wife, and his interests are divided."
If I may paraphrase Paul again, I believe he is saying something like this:
"Here's the reality. You are on the slalom course of the single life. There's basically one thing you need to know in order to navigate that course, come rough waters or fatigue: Marriage is a challenge. It's hard. Staying single will free you from the relational challenges of marriage and free you to serve God with undivided attention. Sexual temptation is the rough water; loneliness the fatigue. If God has given you the ability to stay the course, stay the course. The slalom is not necessarily easier on the other side of the lake."
On the slalom course, you can't change the course – but you can learn how to navigate in such a way that the challenges become the very
things that bring you joy. Paul says in verse 7 that successfully navigating both marriage and singleness is a "gift," and he uses the same word he uses in 1 Corinthians 12 to describe spiritual gifts that God gives believers. Some are able and willing to please God better while being single, others while being married. Paul summarizes his teaching on singleness and marriage with this line in verse 17: "Nevertheless, each person should live as a believer in whatever situation the Lord has assigned to them, just as God has called them. This is the rule I lay down in all the churches."
If you read the entire chapter, you will see that Paul applied this principle even more broadly:
"Was a man already circumcised when he was called? He should not become uncircumcised. Was a man uncircumcised when he was called? He should not be circumcised. Circumcision is nothing and uncircumcision is nothing. Keeping God's commands is what counts. Each person should remain in the situation they were in when God called them. Were you a slave when you were called? Don't let it trouble you—although if you can gain your freedom, do so. For the one who was a slave when called to faith in the Lord is the Lord's freed person; similarly, the one who was free when called is Christ's slave." (vs. 18-21)
That may seem like an odd list to include with marriage and singleness, but all of these "stations" in life were a big deal at the time. Marital status played a huge factor in social standing in Greek, Roman, and Hebrew culture; circumcision was such a contentious issue that the first church council in Acts had to deal with it (and there was a method to reverse a circumcisions); slaves were scorned by everyone.  Jewish men routinely thanked God for not making them a woman, a Gentile, or a slave.   
In the cultural context, Paul tells people that in the midst of their circumstance - no matter how dire - they were to live as a believer, not because their situation was perfect, but because God was present.  Meanwhile, Paul gives advice on how to make that circumstance better (or in the case of slavery, a hope that it will end). Husbands and wives, give affection and show submission to your spouse; Gentile Christians, don't feel obligated to get circumcised; Jewish Christians, don't feel the need to reverse a circumcision; slaves, Christ has made you as free as anyone else - and if there is a way to make your physical reality match your spiritual one, that's ideal. And while Paul does not address slave owners directly, surely there is an implication for them as well. 
The bottom line? Live devoted to God, no matter how dire the circumstances.
To Paul ,the most important thing was not changing circumstances (though he offers a path of hope). The most important things was changing our stance in the midst of our circumstance.
 - Based on the sermon notes of Scott Norris, 9/16/12