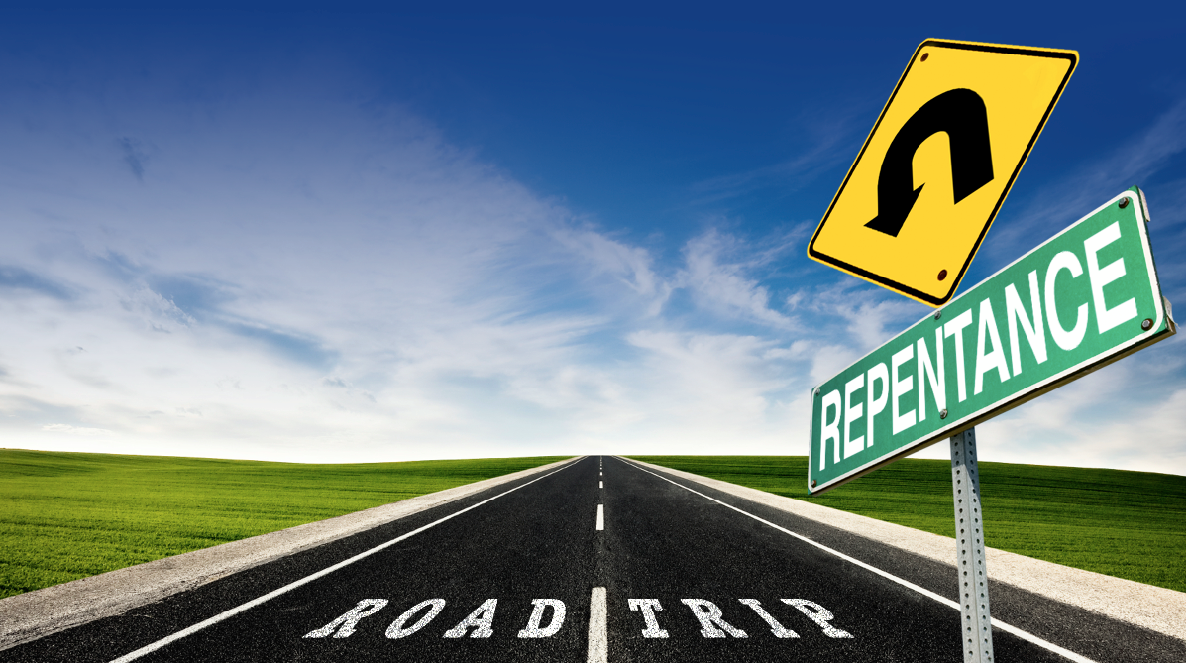 As previously noted, forgiveness is mandatory for Christians. When we talk about forgiveness, we often note that it's really hard…but really good. Life is beautiful on the other side of forgiveness. In the same way that forgiveness is mandatory, so is repentance:
"Thus it is written, that the Christ would suffer and rise again from the dead the third day, and that repentance for forgiveness of sins would be proclaimed in His name to all the nations..." (Jesus, in Luke 24:45-47) 

"They… glorified God, saying, 'God has granted to the Gentiles also the repentance that leads to life.'" (Acts 11:18) 

"The sorrow that is according to the will of God produces a repentance without regret, leading to salvation…"(2 Corinthians 7:9-10)
'Therefore remember from where you have fallen, and repent and do the deeds you did at first..." (Revelation 2:5)
Though God uses his Word, his Holy Spirit, and sometimes his people to move us toward repentance, we must remember our limitations. Repentance is primarily the work of God. We cannot change hearts; only God can do that. Repentance ultimately comes from the Holy Spirit's transformation. So, what is necessary to experience genuine, healthy repentance?
1) We must own our offense
People say, "I'm sorry" all the time, except for the band members of Chicago. There is an even more "spiritual" phrase, and we see it used often in the Bible:
Pharaoh twice told Moses, "I have sinned . . ." (see Exodus 9:27; 10:16-17)
Balaam said, "I have sinned . . ." (Numbers 22:34)
Saul kept saying, "I have sinned . . ." (1 Samuel 15:24, 30; 26:21)
Judas confessed to his sin (Matthew 27:4)
The trouble is, none of them were sincere. Merely saying, "Yeah, I screwed up" is not a sign of genuine repentance. In 1 Samuel 13 - 15, we read of two incidents in the life of Saul. Both times, he clearly and publicly disobeyed God, and Samuel showed up to rebuke him. Saul's response shows us how not to own up to our sin.
Saul became defensive ("But look at all my good reasons!")
Saul refused to talk about it ("Then Saul left…")
Saul makes blamed others ("The soldiers did it!")
Saul justified his action ("We just wanted to give God an offering!")
Saul tried to "save face" ("Please honor me in front of everybody!")
Repentance does not excuse, justify, avoid, deny or cover up. Repentance requires honesty and transparency. Repentant people face a hard truth — they have damaged themselves and hurt others, and they need to be different. It's the hardest thing in the world to just take a deep breath and say, "I really hurt you. I'm sorry. It won't happen again."
God leads us out of ourselves by first forcing us into ourselves, to a place where only truth, humility, and grace can pull us out. We will never understand any of those things if we don't learn to make the journey within.
2) We Must Turn Around
"They were being baptized by him in the Jordan River, as they confessed their sins. But when he saw many of the Pharisees and Sadducees coming for baptism, [John] said to them, "You brood of vipers, who warned you to flee from the wrath to come? Therefore bear fruit in keeping with repentance…" (Matthew 3:5-8)
Repentance is not just feeling bad. Judas "felt remorse and returned the thirty pieces of silver to the chief priest and elders" (Matthew 27:3). Repentance is not merely feeling sorry for sin. Emotions are not repentance. In fact, if we too easily accept tears as repentance, we can actually hinder the person from doing the really hard work of change. Repentance requires a reorientation, a fundamental transformation in one's relationship with God and others.
"Therefore, return to your God. Observe kindness and justice" (Hosea 12:6a).

"Some tax-gatherers came to be baptized, and they said, "Teacher, what shall we do?" And he said to them, "Collect no more than what you have been ordered to." And some soldiers were questioning him, saying, "And what about us, what shall we do?" And he said to them, "Do not take money from anyone by force, or accuse anyone falsely, and be content with your wages." (John the Baptizer, in Luke 3:11b-14)
Once again, you see this idea of a change of direction – a change of life. The change on the inside can be seen by the change on the outside. When his brothers came to him for aid, Joseph put them in a situation where they had to choose whether or not to give a brother to slavery. Judah, who had recommended that Joseph be sold, offered himself in Benjamin's place (Genesis 44-45).
The truly repentant deliberately plan to not do what they did before. If someone says to you, "I appreciate your repentance, but it's going to be hard for me to believe you," more words are not going to do the trick. You need to establish by changed patterns in your life that you meant what you said. They may even test you (like Joseph did to his brothers), but that's just an opportunity to show how repentance has transformed you from the inside out.
3) We Must Brace Ourselves
In 1 Samuel 13-15, Saul repented to minimize the fallout. Like politicians today, he seemed far more interested in "damage control" than changing his sinful nature. He wanted Samuel to stay close and give him public props so the people wouldn't know anything was wrong. Maybe David learned from that scenario. After his adultery with Bathsheba, David wrote:
"For I know my transgressions, And my sin is ever before me. Against You, You only, I have sinned and done what is evil in Your sight. You are justified when You speak, and blameless when You judge. " (Psalm 51:3-4)
Repentant people have to be strong. They brace themselves for the intensity of emotions from those they have wronged—anger, hurt, grief, disappointment, distrust. The truly repentant know they made the choice to hurt others, and they brace themselves. They don't pressure people to say, "I forgive you" and move on. They simply admit their sin and ask for forgiveness.
Repentant people accept boundaries. They recognize that they have created distrust and earned caution. They may never enjoy the same freedom from suspicion that they had before. Their offense may be of such a nature that trust can be regained – or it might not. That's the reality of their situation, and they accept their boundaries.
To be sure they do this well, repentant people become accountable. They invite people into their lives, and they embrace correction, direction, and encouragement.
Ultimately, repentant people should be bold. Stories of repentance and forgiveness make beautiful testimonies, but no one can benefit from our experience if no one knows. If we say, "Forgiveness and grace are beautiful things," and someone says, "Why?" What will we say? "Oh, just because…" Paul wrote without shame:
"For I am the least of the apostles and do not even deserve to be called an apostle, because I persecuted the church of God. But by the grace of God I am what I am, and his grace to me was not without effect." (1 Corinthians 15:9-10)
4) We Must Pursue Life Together
"Therefore, if you are offering your gift at the altar and there remember that your brother or sister has something against you, leave your gift there in front of the altar. First go and be reconciled to them; then come and offer your gift." (Matthew 5:23-24).
Apparently, if you are ready to begin a time of focused worship, and you remember that you have hurt someone else, Jesus would rather have you try to mend that relationship than continue in your sacrifice (worship). Life in community matters.
Paul tells us in 1 Corinthians 11 to "examine ourselves" before we take communion. When we partake of communion, we are participating in the body and blood of Christ in a spiritual sense. We are claiming a communion or community between us. But sin breaks communion. When we send a public message that we are in communion with God and others and we know we are not, we are lying.
Once that community has been restored, there is more. Both David and Peter experienced how repentance and forgiveness are the precursors to an even greater opportunity: the opportunity to have their lives be a testimony to God's restoration: Why should we keep forgiveness and repentance to ourselves?
"Then I will teach transgressors Your ways, And sinners will be converted to You." (Psalm 51:13)

"Simon, Simon, behold, Satan has demanded permission to sift you like wheat; but I have prayed for you, that your faith may not fail; and you, when once you have turned again, strengthen your brothers." (Luke 22:31-32)